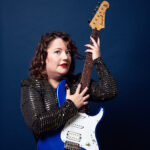 Get ready for some high-octane musical comedy fun from carnage-wielding, mayhem-manifesting, human disco ball: Katie Pritchard. Expect incredible (very hand-made) costumes, chaos, and some pumping choons in a high-octane romp through Katie's synapses; enjoy observational comedy from a completely different angle.
AWARDS:
WINNER Musical Comedy Awards 2019
WINNER 2Northdown New Act of the Year 2019
WINNER Hilarity Bites New Act of the Year 2016
WINNER "Best Family Friendly Show" for: HYSTERICAL HISTORIES at Guildford Fringe Festival 2019
WINNER Hilarity Bites New Act Competition 2016
Finalist Leicester Square Theatre Sketch off Competition 2019
Runner Up Stand Up For Cider 2016
Runner Up Max Turner Prize 2015
REVIEWS:
★★★★★ "Katie Pritchard is a one woman comedy music powerhouse."  VoiceMag
★★★★ "A musical bonanza like mixing every possible variety of Walker's Crisps in a bowl and eating them with chocolate" – Mumble
★★★★ "Katie Pritchard is a force of nature!" – one4review
★★★★ "Will have you shaking from laughter" – Broadway World
★★★★ – Mervyn Stutter's Pick of the Fringe
"You're in good hands with Katie Pritchard if you want to spend an hour topping up your dopamine reserves" – The Skinny
"A star of the future" – Notts Comedy Review
"Always original and entertaining" – Female Arts Magazine
"An explosion of joyful lunacy" – Shortlist
"Inventive and hilarious" – Broadway Baby
AS SEEN ON:
"Katie Pritchard: Disco Ball" (ITVX)
"Katie Pritchard: Disco Ball" (NextUp Comedy)
"Bad Tech | Do Audiobooks Count as Reading?" (Sketch for PULPED)
As seen on "Harry Hill's ClubNite" (Friday 8th November 2019 – Channel 4)
"If Skincare Routines Were Olympic Events" (Sketch for Channel 4)
"Angry Quiz Guy" (SitCom for Organised Chaos Films)
"PHASE" (Feature Film by Richard Sandling)
"Essentials" (Sketch for Video Arts)
I have performed at / with:
Deer Shed Festival (2019 – 2022) including hosting the Big Top Stage in 2022 and 2023!
Latitude Festival (2021 & 2022)
Bedfringe
Big Feastival (including hosting The Exchange Stage 2023)
Big Foot Festival
Bluedot Festival
Brockwell Bounce
Camp Bestival (2022 & 2023)
Camper Calling
Camp Kindling
Carlisle Fringe
Connect Festival
Cosmic Shambles
Edinburgh Fringe Festival
Eden Festival
Greenbelt Festival
Guildford Fringe Festival
Hanwell Hootie
Kendal Calling
Leicester Comedy Festival
Summer of Sound
VAULT Festival
Wychwood Festival
and more