Get ready for some high-octane musical comedy fun from carnage-wielding, mayhem-manifesting, human disco ball: Katie Pritchard. Expect incredible (very hand-made) costumes, chaos, and some pumping choons in a high-octane romp through Katie's synapses; enjoy observational comedy from a completely different angle.
WINNER Musical Comedy Awards 2019
WINNER 2Northdown New Act of the Year 2019
WINNER Hilarity Bites New Act of the Year 2016
WINNER "Best Family Friendly Show" for: HYSTERICAL HISTORIES at Guildford Fringe Festival 2019
LIVE at the 2Northdown Comedy Competition 2019
"An explosion of joyful lunacy" (Shortlist)
"Mind blowing" (Herts Advertiser)
"Inventive and hilarious" (Broadway Baby)
"Always original and entertaining" **** (Female Arts Magazine)
As seen on "Harry Hill's ClubNite" (Friday 8th November – Channel 4)
Guest on Bob Mills' Tragedy Plus Time (Sunday 1st September 2019 talkRADIO)
Panelist on "Anything but Coldplay" (Friday 21st December 2018 BBC THREE COUNTIES)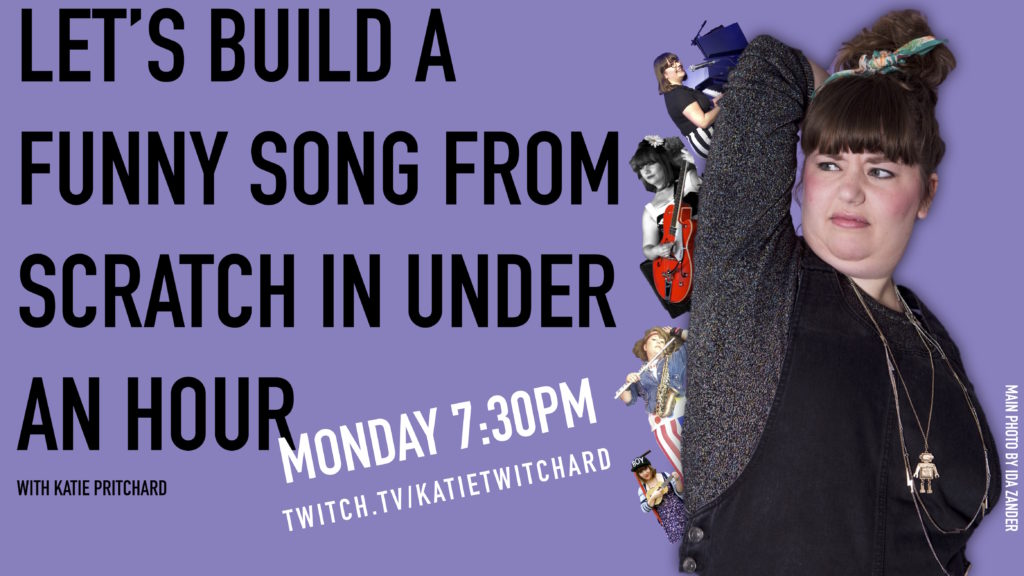 I thought it would be fun to build a song from scratch together online.
It's an interactive show, so I'll be taking requests on everything to do with the song from title to how many saxophone lines we should bung in it, to how many shakes per second the shakey egg should have! So, if you want to create a cool original new comedy song with me about something silly, do come and join me!
Live & very interactive 
MONDAYS @ 7:30PM
Welcome to this completely improvised and very interactive monstrosity of a live stream show. Think "This Is Spinal Tap" but with less hair and a lower budget.
Set in the imaginary online band rehearsals for HIT cover band "The # Attacks" as they rehearse their obscure covers of the choruses of popular songs, come along and pretend you're in the marimba (or literally any other) section of this 124 member band!
This weeks' special guests are Ben Van Der Velde & Zahra Barri
Live & very interactive
WEDNESDAYS @ 7:30PM  
Like what I do? Love what I do? Why not support me through these uncertain times of no live entertainment by buying me a Ko-Fi here… Monthly subscribers (from £3 per month) also get access to my gallery of Robert De Niro portraits if he were a cat…MEOW…  
I am also, for a limited time only, offering commissions of my crap art on Ko-Fi! Get your photo's rubbished by my incredible lack of art skills by commissioning me. This costs just £5! PHWOAR! P.S. please no one tell Mr. Fairclough I'm doing this – in year 7 he told me I couldn't draw, and I think he'd be really angry about this now!
Want something a bit stupid? Well, I also have a Patreon account set up with options from just £3 per month. Currently, my Patreons can find my "arts" of Robert De Niro if he were a cat. As well as background insight into all my designs I've been working on for my new T-Shirt brand. Plus polls and votes on what to draw next. Plus unreleased videos of songs. PLUS there are membership options to allow you to listen to my first ever podcast that I made way back in 2015. They are stupid, they are silly, and they might pass a bit of time during this quarantine time.